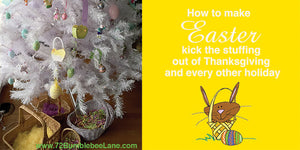 How to make Easter kick the stuffing out of Thanksgiving and every other holiday
Okay, first of all, I like Christmas, and Thanksgiving, and Halloween (oh yes, especially Halloween) but as a mom – and a Catholic one at that – I have a problem with Easter running second or third or even lower as my brats' favorite on their perennial list of My Favorite Holidays.
Soooo in an effort to put back the emphasis where it rightly belongs – on Easter – we now have a few additions to the traditions from when I was growing up. Joining our lineup of favorites like coloring eggs, making candy eggs, and going to Pappy's for an Easter egg hunt? These four new traditions. Hold up, is "new tradition" an oxymoron?
We got a tree. I'm not talking about a little tabletop tree either. A tree. A 6' white Christmasy kind of tree. Those first couple of years were a little scarce on ornaments but strangely enough companies have learned of my obsession and answered the call. Yes, I am talking about you Pier 1, Hallmark, and Target. Well, you, and the brats made me a few trinkets, too.
We leave carrots for the Easter Bunny. Yes, we do. Don't judge. The plate of baby carrots is on the table and empty baskets are placed under the tree on Easter eve.
Candy isn't the main attraction in the basket. Round these parts the candy is a bonus. Sure, the Easter Bunny brings the brats' favorites: jellybeans and peanut butter cups for the big brat and almond joys and butterfingers for the little brat but bottom line? The Easter basket is the new Christmas stocking. That sounds like a tweetable if I actually liked Twitter.
We go to church. You didn't think I was going to forget that one, did you? We switched to the Easter vigil mass last year and we all agreed that it should be our new tradition.
Do you want to know what's in my brats' baskets?
Big Brat: peacock pen (inside joke), work out shirts, yoga pants, flip flops, swim goggles, stuffed camel (another inside joke), necklace, and candy
Little Brat: headbands, earrings, stuffed skunk (inside joke), socks, swim goggles, tee shirt, bracelet, puzzle book, moonlight gel pens, and candy
By the way, this is a list from a past Easter because, c'mon, the Bunny loves surprises.
And that, my friend, is 4 easy ways to wrestle every other holiday to the ground, pin it, and declare Easter victory. Now go forth and conquer. Santa won't know what hit him.
Over + out,
Angel
p.s. My brother totally one-upped me last year by creating a rabbit piñata stuffed with money and treats for all the kids at Pappy's house. I guess sibling rivalry never ends!
---