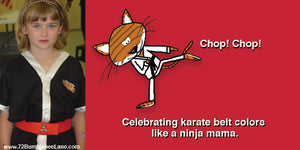 Chop! Chop! Celebrating karate belt colors like a ninja mama.
If you're tripping over wooden staffs and sparring gear chances are you have a budding martial artist under your roof. My little firecracker took karate three times a week for a number of years so I feel you, karate mama. We went through two complete sets of youth belts (Little Ninjas, Karate Kids) followed by quite a few belts on the adult system. We finally had to call it quits when she couldn't remember all of the sequences required to pass the belt test. Do you have any idea how hard it is to teach your little grasshopper that many moves in that many routines? Hard. Very hard. Very hard usually accompanied by tears and/or tantrums. 
Because we've celebrated every belt color (some multiple times) in our house I'll share some of our go to ideas for belt celebrations.
Vietnamese take-out.

Vietnamese is our favorite but any Asian food works – Korean, Japanese, Chinese. Any. Asian. Food. 

Sushi.

Yeah, that's kind of the same thing, but different. ;)

Smoothies.

Yes, smoothies. Did you know that you can make or buy smoothies in just about every belt color?

Prizes based on belt color. Some ideas for an orange belt prize include Reese's peanut butter cups, orange pens, orange juice boxes, orange crush tees, orange balloons, and orange converse sneakers.

Fortune cookies. 

We make our own but that's

an upcoming post. :) Buying fortune cookies is perfectly acceptable. You can dip them into chocolate and add sprinkles for a festive flair. Sprinkles in the belt color for the win!
Meal based on the belt color.

 So something along the lines of pizza, strawberries or cherries for dessert, and cream soda for a red belt. Frittata and lemon meringue pie for that yellow belt. Trust me, I can go on and on. :)

Asian-themed gifts. What kid wouldn't want cool chopsticks or chopstick rests, a fortune cookie maker, calligraphy pens, a Buddha board, stuffed pandas, dragon figurines, or a lucky cat bank?
Movies. Rent or buy Kung Fu Panda, How to Tame Your Dragon, Karate Kid

, or

 Teenage Mutant Ninja Turtles. Introduce them to Kung Fu, the series.
Kicking karate tiger card. ;) Shameless self promotion. C

reated with karate mamas, karate aunts, and karate grandparents in mind. Besides, it will look great in a frame on your little ninja's wall. 
You can go as big as you want or keep your celebration small. It's a matter of personal preference or maybe the belt color and besides, the how can be super fun but it isn't as important as the why.
"We're having bananas smoothies tonight to celebrate your yellow belt" works just as well as filling your karate kid's room with yellow balloons or getting him a pack of peanut M&Ms. Your celebration will feel special because your karate kid is special. Doesn't your favorite little ninja deserve to feel special? 
Okay, you're up, karate mama. Chop! Chop! Go karate-kick some butt and celebrate that next belt like a ninja would. Yeeaaaaah, like a ninja would except without skulking about in black clothes from head-to-toe and throwing those metal star things at people, I mean. 
Over + out,
Angel
 p.s. These are not affiliate links. Meaning, I don't get paid to add links to this stuff. I only include links to gear we have used and would recommend to a friend. :)
---