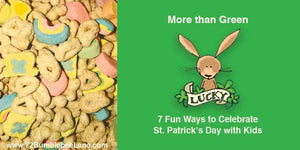 I-rish every day could be St. Patrick's Day!
It's just about go time for leprechauns!
Yep, it's your lucky day. Here are 7 ways to kick up the fun this year and celebrate St. Patrick's Day with your kids like the rock star mama that you are. 
The wearing o' the green. Yep, throw on your favorite green duds and go on about your day. Go big and rep Ireland from head to toe or tie on a green scarf. Both count. Rainbow socks or suspenders will get you extra bonus points.
Breakfast of Leprechauns. Lucky charms are not only magically delicious they are also gluten free. Yay! Bonus: A drop of green food coloring turns glasses of milk green. Boom! Breakfast of Leprechauns.
The eating o' the green. Chow down to a meal made of green food. It's way easier than you think. Tossed salads, green goddess sandwiches, green veggie tray, guacamole, pasta with pesto, green smoothies. Seriously, I can go on all day. Get green grub, serve it, and eat it! 
The eating o' the Irish eats. Serve traditional Irish fare (American-style, that is) for lunch or dinner. Corned beef and cabbage, Irish stew, Shepherd's Pie, Irish soda bread, and fish chips are usually the top picks but we like to add anything potato to the mix 'round here. Baked potatoes, potato skins, potato soup, potato salad, french fries – be creative!
Rainbow hide and seek. Hide a series of clues in a location using every color of the rainbow. Notes with riddles hidden in red, orange, yellow, green, blue and purple destinations eventually lead to the pot of candy gold. Because gold foil wrapped chocolate coins are fun at any age. Want maximum bonus points? Okay, but only if you can write your clues as limericks.
Charades. Time to act out...St. Patrick's Day themed charades, that is. Team up (green vs. gold) or go solo. Here is a made for you charade fun sheet to get you started. You're welcome.
Leprechaun Shenanigans. Imagine your Elf on a Shelf had a night like no other: green toilet bowl water with tiny green footprints on the toilet seat, mess-making madness galore. Go wild. Pinterest has lots of ideas for your elf that you can leprechaun-ize. :)
There you have it. 7 ways to have some Irish-style food, fun, and games with your wee bairns on St. Patrick's Day. You're in luck because you don't have to be Irish to celebrate. Now go get your green on.
Over + out,
Angel
---